Every child is an artist.
  -Pablo Picasso
As a child, Pablo Picasso could draw before he could write, or even talk! At age 15, he won the gold medal in the most prestigious art competition in Spain. Fortunately, today's students have Meet the Masters to learn about Picasso and many other famous artists.
Blue Period, Rose Period, Cubist Period, Classical Period. After studying Picasso, can elementary-level Meet the Masters students identify these different styles in Picasso's life? Yes!
Step 1: Introducing the Master – Students meet Pablo Picasso during an interactive PowerPoint presentation designed to engage and captivate. Picasso explored many styles of painting. As soon as one style became popular and other artists started to copy him, he would try something completely new. Students explore Picasso's transformation and learn why he progressed into different styles over the years.
Blue Period – As a struggling young artist, Picasso was poor, lonely and depressed. Students see examples of how Picasso expressed his loneliness through cool blue colors during this time, matching his own blue mood.
Rose Period – As Picasso's life became happier, he added warmth and excitement to his paintings. His circus settings and costumes depict how much Picasso's life had improved as he gained fame and sold some paintings.
Cubist Period – Students close their eyes and picture three musicians, imagining how Picasso may have altered his work in his next transformation. They are surprised to see Picasso's cubist style where they barely recognize musicians in clown outfits. They can identify the musical instruments, but Picasso emphasized different shapes and forms, and then mixed them up like puzzle pieces. Students view a famous portrait painted in this style, Portrait of Dora Maar, and see how her front view and profile are combined into one face.
Classical Period – Ancient sculptors influenced Picasso's next stage. He changed the look of things to suit his new vision. Now his paintings made people look like they had been carved out of marble, with smooth, rounded edges and warm, rich colors.
Students play a game at the end of the presentation where they identify Picasso's style after seeing a painting or hearing a detail.  Everyone has a chance to vote for their favorite Picasso style.
Step 2: Learning From the Master – Back in the classroom, worksheets help students practice seeing many sides of realistic musical instruments, preparing them to design their own creation in the cubist style.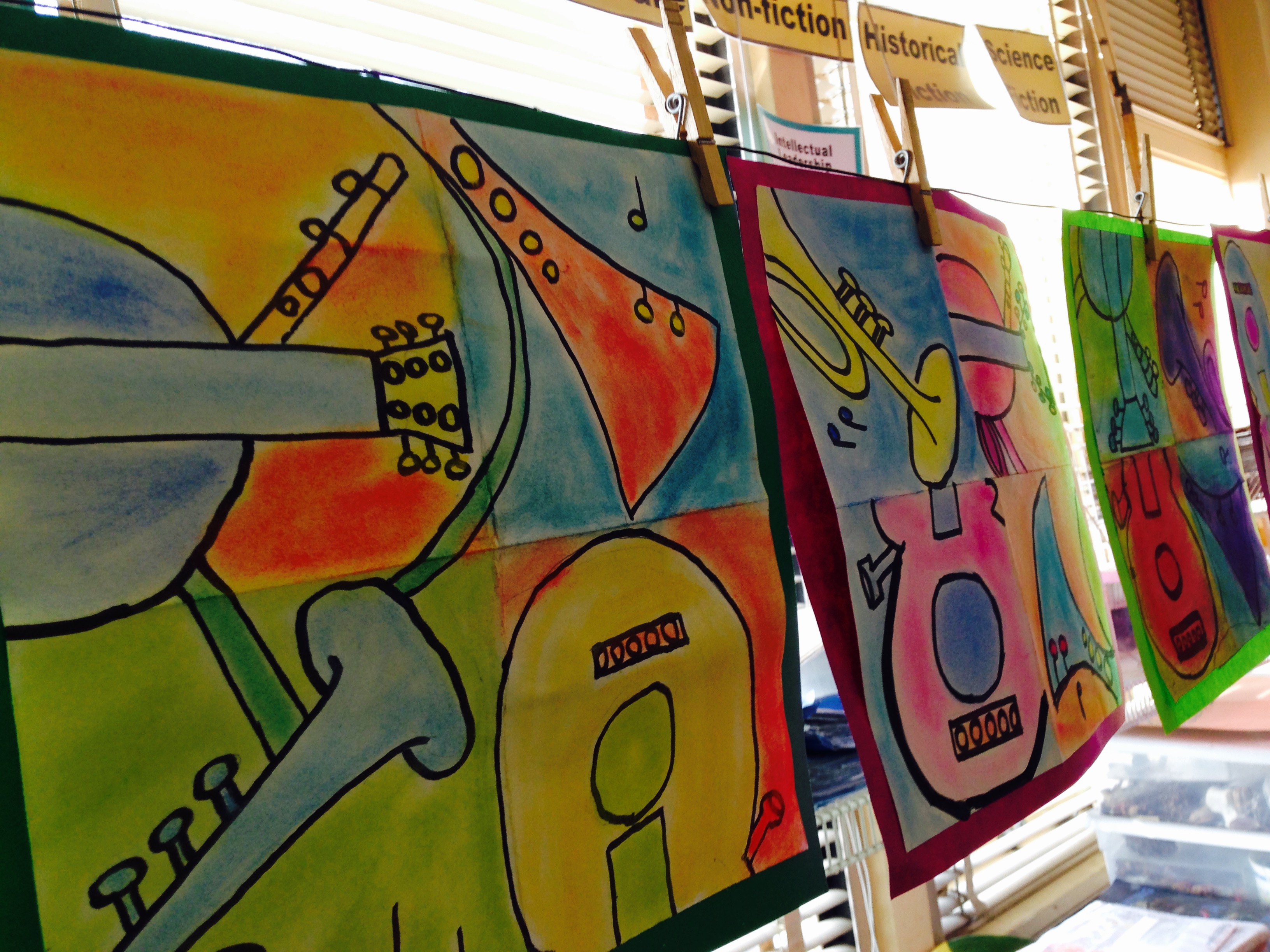 Step 3: Working With the Master – Students divide their musical instrument line drawing into four sections and rearrange them to achieve Picasso's abstract cubist style. They learn how to engage the right side of their brain, focusing on the actual lines, to help draw portions of their musical instruments. After completing the composition, it's time to finish it with a colorful chalk stain. They select shades for their chalk palette and apply them gently to their composition. It's very lively, just as Picasso loved during this time period. Students are encouraged to turn their creations up-side-down and side-ways to select their favorite abstract point of view.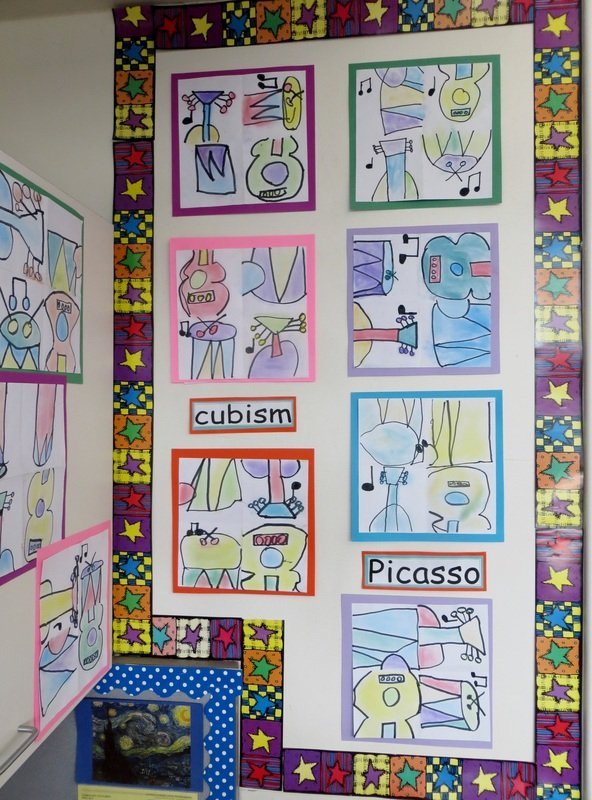 Students are amazed that they have created their own masterpiece in the style of still life cubism.
Learn more about Picasso and see more Meet the Masters student artwork examples.