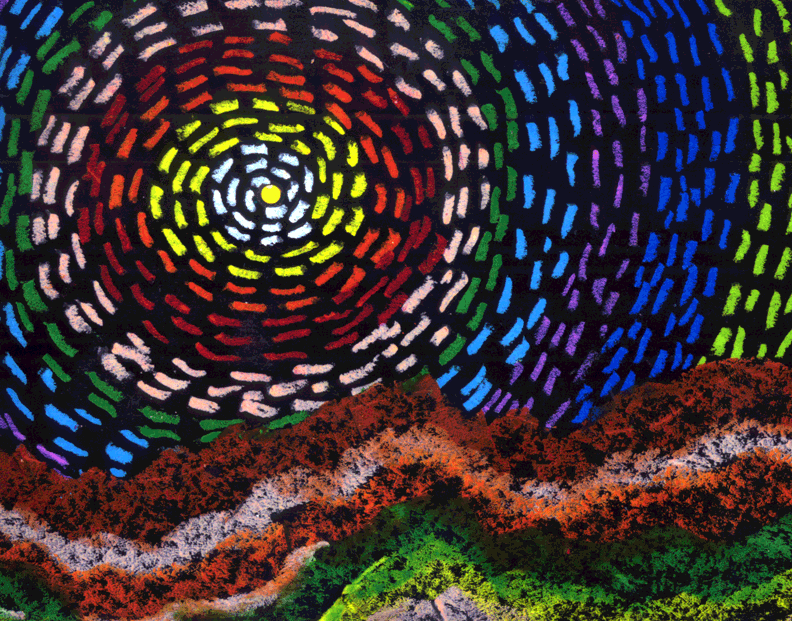 What do you know about Vincent van Gogh? Most people know that he was the master artist who painted A Starry Night. Some people know that he "suffered for his sanity" and cut off part of his ear during a psychotic episode. A few even know that he only sold one painting in his lifetime, but now his paintings sell for millions of dollars. Let's find out what Meet the Masters elementary school students learn about Vincent van Gogh.
In the first step of the Meet the Masters lesson, Introducing the Master, students learn that this master artist painted 1700 works of art in 10 years – that's about one every other day.
First and second grade students learn that van Gogh used swirling brush strokes in A Starry Night to capture the energy of the seemingly still night by depicting stars whirling in space.
Intermediate students in third and fourth grade learn that he expressed emotions through color. He used opposite colors to show the opposing sides of man, and clashing colors to show a café where no comfort could be found.
Upper grade elementary students learn that Van Gogh was friends with another master artist, Paul Gauguin. Van Gogh was disheartened as their relationship deteriorated into constant quarreling. Their violent arguments led to van Gogh attacking his friend, then cutting off part of his own ear to punish himself. The tragedy of his troubled short life emphasizes how incredibly talented, insightful and innovative he was as an artist.
The second step of the Meet the Masters lesson, Learning From the Master, allows students to practice the techniques that made van Gogh's art revolutionary. They learn that concentric circles are graduated in size and have a common center. A spiral with broken lines creates movement. Adding color will make the spirals come to life. Students practice making various shapes and outlining them with broken lines to create life and movement in their own sketches, preparing them for success on the final project.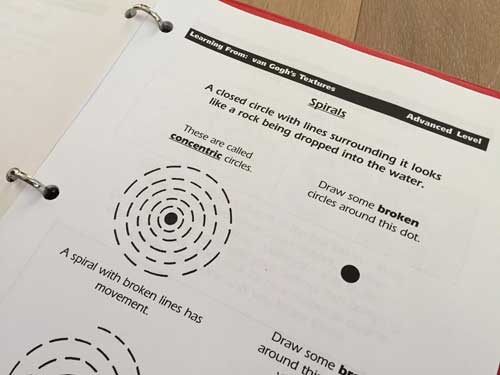 After learning the inspiration and techniques of van Gogh, the children are ready for the real fun: Working With the Master. On display in the front of the room is a large print of A Starry Night to inspire the students. The well-equipped teacher guides the students through their individual projects with her completely scripted, timed and illustrated lesson. After practicing a few broken line spirals on scrap paper, the students are ready to begin their creative journey.
Younger students start by using their vibrant oil pastels to draw an interesting horizon line that looks like low, gently curving hills. Then they begin to design spiral stars in the textured night sky. The older students start with a Cypress tree, filling it with short, wavy textural strokes. Their designs come to life as they draw bright spirals exploding in the night sky. The students fill the rest of the sky with short strokes of light and dark blue that swirl around and behind the stars.
Finally, students mount the Artist Profile Strip to the back of their artwork. It provides a brief description of the artist, the technique and the media used for the artwork. Students discuss the emotions they have created in their artwork. They see some of the same emotions in their own artwork that they saw in van Gogh's painting. Students see how they created movement with colors and textures. Their stars seem to shimmer against the dark night sky.
And students are shimmering with delight at the masterpieces they have created.  Learn more about our Vincent van Gogh art project.