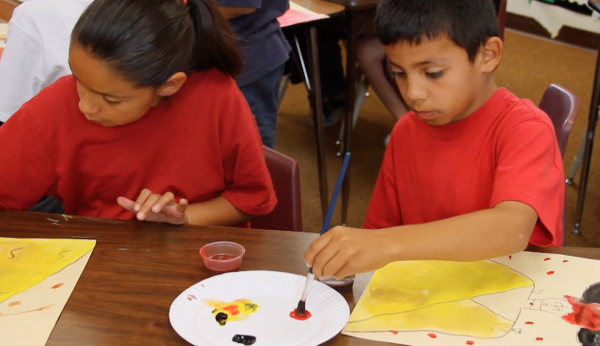 Art is an excellent way for kids to explore their creativity and express themselves in unique ways. It provides children with an outlet to explore their imaginations and develop their skills in a fun and engaging way. There are numerous benefits of art for kids that go beyond simply creating a beautiful piece of art.
Here are some of the key benefits of art for kids:
1. Enhances Creativity and Imagination
Art encourages children to think creatively and use their imaginations. By giving them the freedom to experiment with colors, shapes, and textures, art helps them develop their own unique style and expression. This can lead to increased confidence and a greater ability to think outside the box.
2. Develops Fine Motor Skills
Art requires a great deal of precision and attention to detail, which helps children develop their fine motor skills. By manipulating different materials such as paintbrushes, crayons, and clay, kids can improve their hand-eye coordination and dexterity.
3. Improves Communication Skills
Art can be a great tool for kids to express their thoughts and feelings. It helps them develop their communication skills by giving them a way to express themselves that doesn't rely solely on words. This can be particularly beneficial for children who struggle with verbal communication.
4. Builds Confidence
Creating something from scratch can be a hugely rewarding experience for kids. Art can help build their confidence by giving them a sense of accomplishment and pride in their work. When children see their creations on display or receive positive feedback from others, it can boost their self-esteem and sense of self-worth.
5. Enhances Problem-Solving Skills
Art often involves experimentation and problem-solving. By trying different techniques and materials, children learn to think creatively and develop solutions to challenges they encounter along the way. These skills can be applied in other areas of life, such as in academics or social situations.
6. Provides a Sense of Relaxation
Art can be a great way for children to unwind and relax. It provides a peaceful, meditative activity that can help reduce stress and anxiety. This can be particularly helpful for children who struggle with attention or hyperactivity.
7. Fosters Cultural Awareness
Art is an excellent way for kids to learn about different cultures and traditions. By exploring the art of different cultures and time periods, kids can gain a greater appreciation for diversity and develop a more nuanced understanding of the world around them.
8. Encourages Self-Expression
Art provides a safe space for children to express themselves in ways they might not be able to in other contexts. By exploring their thoughts, feelings, and experiences through art, kids can develop a greater sense of self-awareness and understanding.
The benefits of art for kids are numerous and wide-ranging. From enhancing creativity and imagination to improving communication skills and building confidence, art provides a fun and engaging way for children to explore their world and express themselves. By encouraging children to engage in art from an early age, parents and educators can help foster a love of creativity and lifelong learning.
View 35 art masters and the art projects elementary school children have made after experiencing Meet the Masters.