Do you know what a Tessellation is? In verb form, to tessellate is to arrange shapes closely fitted together in a repeated pattern without gaps or overlapping. You've most likely seem some amazing examples of tessellation in the works of artist M.C. Escher.
Recently one of our Meet the Masters art teachers had a fun day assisting with Escher art assemblies for the kids as well as teacher training at a school in La Puente, California. Meet the Masters professional art teachers go in to schools in Southern California to teach the MTM units themselves, or to train the school's teachers or parent volunteers in the 'art' of teaching Meet the Masters lessons. If not in SoCal, not to worry; any school can purchase the lessons which come with step by step instructions so that they can be taught by teachers, docents, or parent volunteers.
As part of the assembly, our MTM teacher set up a display of her collection of Escher prints for the students to view. Their enthusiasm for Escher's amazing art work was so exciting to see!
This is one of her most favorite of all of Escher's highly creative, skillful and ingenious artwork: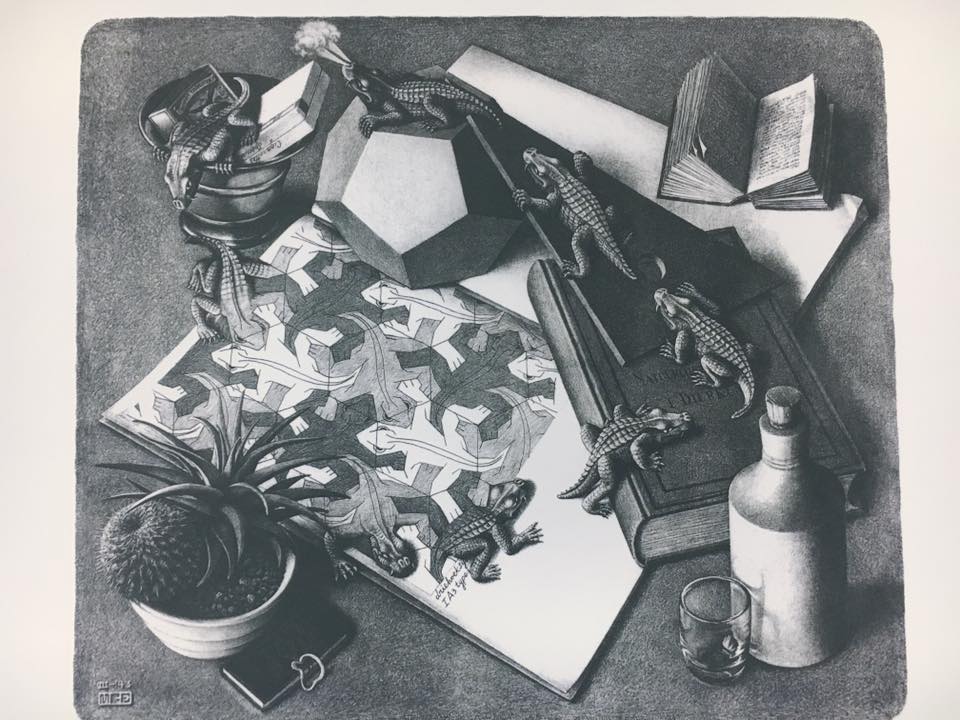 When a new teacher asked for tips on embarking on her first Escher artist unit, the words of advice from our MTM teacher were:
"Just have a blast!! Escher's art is spectacular!! Keep going into the realistic details and the genius of Escher's Tessellation designs. The students are always completely amazed and blown away by his art and I absolutely LOVE giving Escher assemblies. Even the TK/Kinder students are really into all of the realistic details."
Part of the teacher training, so that they can conduct Meet the Masters unit lessons themselves, involves actually creating the artwork that their students will create. The teachers-in-training worked hard on their tessellation projects. Depending on the age of the students they teach, the teachers came up with age appropriate example designs:
4th and 5th grade teachers
3rd grade teachers
1st and 2nd grade teachers
Kindergarten / TK teachers
Learn more about M.C. Escher and see Meet the Masters student artwork examples.