"I would almost rather see you dead."
Such was the reaction of Mary Cassatt's father when she nervously told him she wanted to become a professional artist. Was she successful? Meet the Masters students will discover the answer.
Step 1: Introducing the Master
In the multi-media assembly, Meet the Masters students learn that Mary Cassatt was born to a wealthy family in Pennsylvania. Despite her father's reaction to her chosen vocation, she moved to Europe to further her art studies and career. A trailblazer, when Mary discovered the top art school in Paris would not accept female students, she hired their best teachers to give classes for women only. In just two years, Mary had her first painting accepted in the prestigious art show, the Paris Salon.
Using PowerPoint slides, the students are introduced to Cassatt's first work to be accepted for exhibition at the famous art show. It was very dark, in the style of the old masters at the time. When Cassatt became friends with a new group of young artists, her art changed in an exciting way. These artists painted in short dabs and dashes, and liked to paint outdoor scenes because they wanted to show color and light. Thought she never liked the term, Mary Cassatt had discovered Impressionism.
Students examine several of Cassatt's paintings, analyzing the composition and learning that the placement or arrangement of visual elements directs the viewer's eye movement through the painting. They learn to identify the "line of composition" as they trace how their eyes walk through each painting, directed by Cassatt's careful use of color, contrast, overlapping subjects and framing. The students finish with a "Pass the Hat" game, correctly answering questions about the artist to find the "Art Smart" winners.
Step 2: Learning From the Master
Now it's time for the students to practice the techniques that made Cassatt's art revolutionary. Students consider different types of patterns and explore options for their art project. They learn how drawing just two dots on their page can turn into the silhouette of a lovely hat. Intermediate and advanced students study facial features and learn how to lightly sketch guidelines so they can recreate Cassatt's beautiful portraits.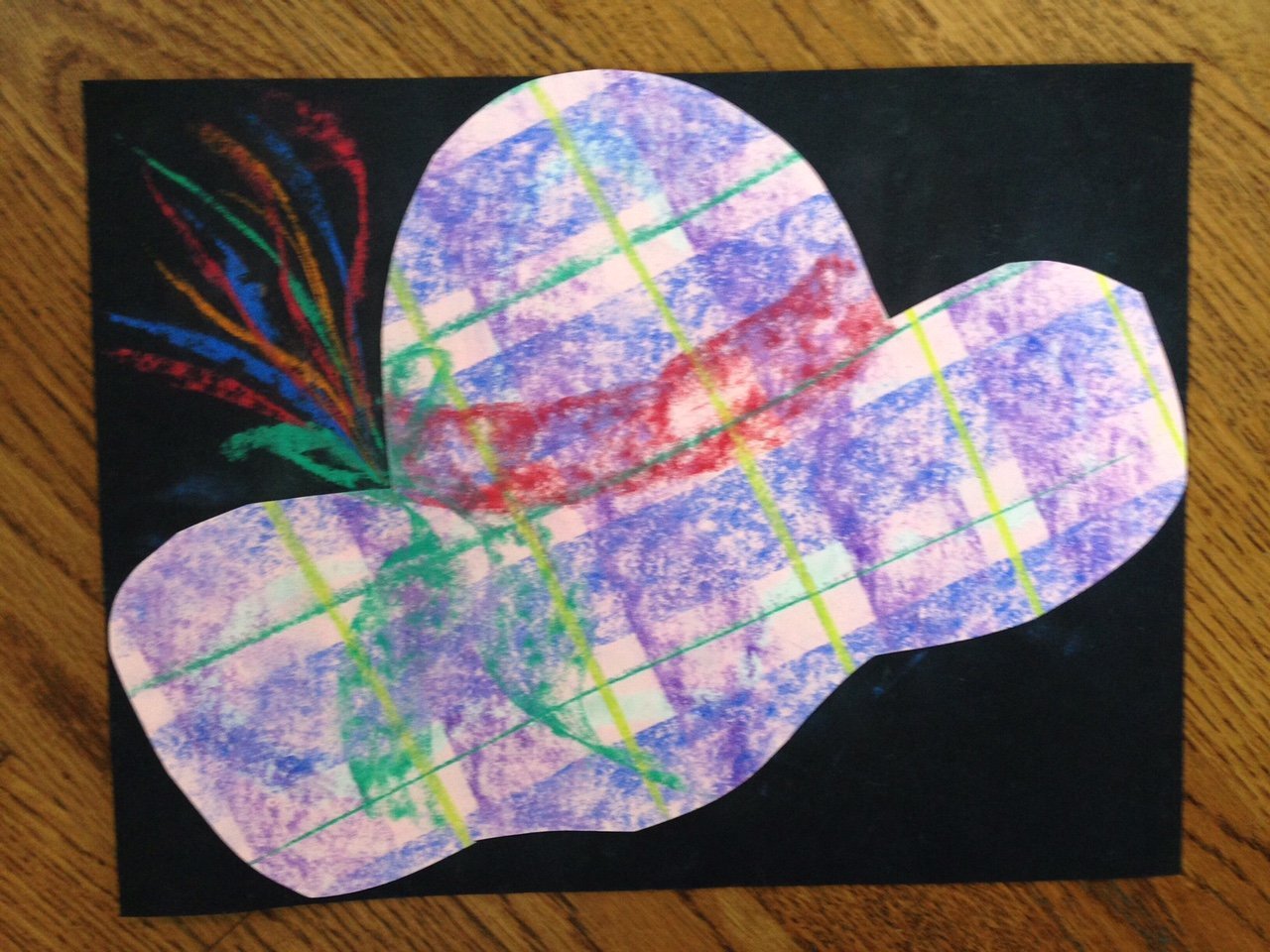 Step 3: Working With the Master
Mary Cassatt enjoyed depicting the comfortable bond between mothers and children in relaxing home settings. She was also fond of painting young girls and women in elaborate hats and bonnets. Meet the Masters students begin to create their own Cassatt hat by carefully placing their two dots and drawing the outline. Students practice several types of strokes with their oil pastels, working to produce different effects. They use their practiced strokes to create a plaid, geometric or floral pattern. Their final selections are interlaced on bright paper to achieve distinctive effects with their patterns. They have the option to decorate their completed hats with ribbons, feathers or flowers. Intermediate and advanced students add a facial profile or a front view to anchor and display their beautiful hat.
Mary Cassatt would be proud of the students' lovely hats!  Learn more about this art project.